Men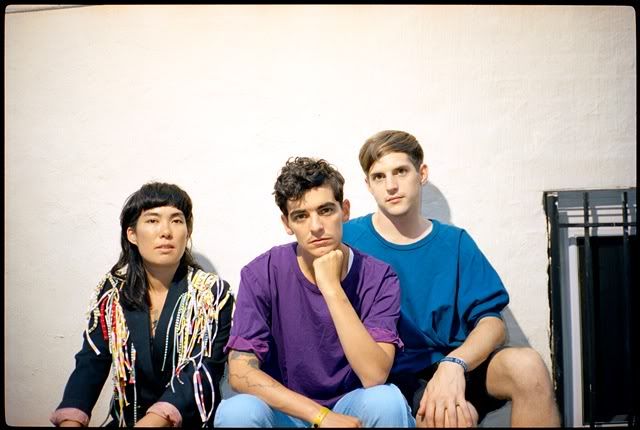 Brooklyn based band Men, is the new musical project of JD Samson, from Le Tigre as well as Peaches' band, along with Michael O'Neill and Ginger Takahashi, both from Ladybug Transistor. Blending dance music with social and political issues, Talk About Body is Men's debut. Here, JD gives some background into the band known as Men.
1. What was the motivation in starting the band?
i just didn't want to stop making music. i had all these ideas in my head about new ways to do things sonically and what kind of a space i wanted to create with my art. so once i met the right people to do that with, i tried to build and build until i got to a place of feeling safe enough to put it out into the world.
2. How did the band form?
the band began as a dj project/ remix team/ and original music project that was comprised of me and jo from le tigre. i was also working with ginger and michael and emily on another project called hirsute. the two bands kind of got married and jo and emily left to focus on other parts of their life. then the rest of us forged ahead and made this record.
3. Where do you draw inspirations from for the lyrics and music?
we just write about things that we feel. i think sincerity is really important for me. we are political queers and we aren't really afraid to talk about that or any other aspect of our lives. we are inspired by our peers. their art. and how the rest of the world lives in their bodies.
4. Having been in other bands and such, what can you use or take over with you now with this band?
well i have learned a lot about the music industry. the business of making music. i have a fan base of amazing people who are dedicated to coming back to see me in this project and i feel really lucky and happy to have them.
5. Who would you choose if you could pick anyone to work with?
i would love to work with david byrne. or joan armatrading.
6. Is there something specific you would want the audience to take away with them after a show?
i want them to feel refreshed. like they just had a salt scrub and a major eucalyptus bath or something. and that they want to hug their friends. deeply.
7. Besides anything music related, what is something that occupies you?
hmm. i like to cook. i like to run. i like to make our costumes? i am also a dj.
8. What else could you picture yourself doing other than this?
not much really. i wish i had become a doctor. i could be a manager for a band or do something in the industy i guess. but i don't think i would like it.
9. What's a random thing about you?
i have vitiligo. just a little bit. inside my nostril and on my eye.
10. What are some bands you are currently listening to?
midnight magic, kim ann foxman, creep, tanlines, patti smith
Some old favourites/favourite records?
bohannon- don't stop the dance neutral milk hotel- in the airplane over the sea built to spill-perfect from now on
Anything you're looking forward to being released?
new hercules and love affair record.
Last cd/vinyl/digital purchased?
anika (from bristol)
Last movie you saw & show you went to?
last movie i saw was catfish, last show i went to was lcd soundsytem/ hot chip
myspace.com/men