Apache Beat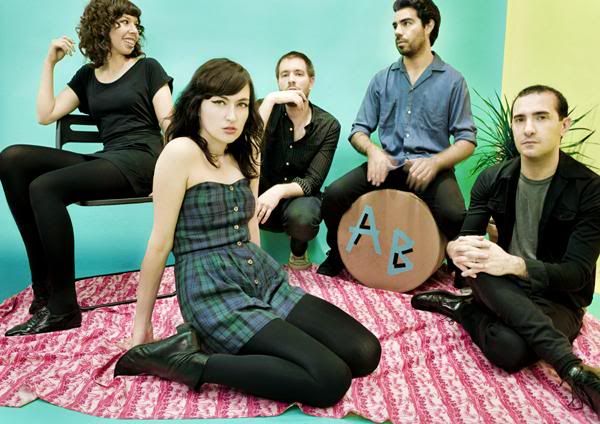 Apache Beat, the five piece based out of New York, is compromised of Phillip Aceto (guitar/vocals), Michael Dos Santos (bass/vocals), Ilirjana Alushaj (lead vocals), Christina Aceto (synthesizer/piano), and Neil Westgate (drums/percussion). A mixed fusion of a variety of sounds, Apache Beat blend together experimental tones to form their own unique sound. Their album, Last Chants, was released in October. Here, Mike describes the formation of the band, as well as other aspects surrounding the band known as Apache Beat.
1. How did the band come together and what's a bit of background on the band?
Phil & I have been friends for a long time. We were both fans of each other's bands and often spoke about getting something together. He was in a great group called Blue Sparks and I was helping them out on bass before they broke up. Phil knew Ili and had the idea of getting the three of us together for a musical collaboration. We hung out a few times and worked on some music, it was promising. I think we had ideas for a good 10 songs or so. We even had a tentative name "Drowners" after the Suede tune. The sound was also more noisy and experimental. We did this a couple months or so then drifted off into other projects and put the collaboration on the back burner. About a year later, Phil started getting together with Ili to demo some ideas on his four track. This produced a couple songs, "Babylon" and a very different version of "Blood Thrills." He pulled his sister into the fold then I started showing up again and asked Neil if he'd be interested in drumming. Neil and I have known each other since we were kids and played in all sorts of bands together. Noise, prog, gutter punk, free jazz, power pop, you name it. So he was a perfect fit. Phil & I had another thing going at the time called "Ahoi." There was one song I had written for the tentatively titled Drowners project that carried over into Ahoi's catalogue. Phil wrote lyrics and named it "The Apache Beat." Ili saw this on a set list and suggested it as our band name. Everyone immediately dug it. We were big advocates of the Rother/Dinger thing and Klaus referred to his Motorik Beat as The Apache Beat so it was also a nice nod to one of our heroes.
2.  What sparked your interest as far as starting up a band?
We never really intended on starting a band. We just wanted to get together and mess around. Have fun, make some noise and see what would happen. The more we got together it just evolved into something we wanted to take further with each other.
3.  How would you describe the band?
We don't really have a set formula I can dissect. Our writing is all a bit stream of consciousness and our sound is always changing. Even after songs are recorded they often transform dramatically. As soon as we're comfortable we usually get antsy and start looking for new ways to do things. We're into elements that contradict one another, combining sounds and styles that shouldn't work on paper.
4.  What's some inspiration for the band as a whole or that you draw upon?
Inspiration seems to come from all over the place with us. It depends on our moods or where we're at on a given day. Musically, I'm sure we unconsciously draw on all sorts of stuff. Our influences are across the board.
5.  What do you hope to achieve with the music and where do you see yourselves among other bands?
We're interested in threading new territory. We have no interest in trying to mimic or fit in with what our contemporaries are doing. I'd like to keep pushing our own boundaries and stay out of a comfort zone. I feel we haven't remotely tapped what we're capable of doing with Apache Beat so I'm excited at the possibilities ahead and where we could take our sound. I've been listening back to some improvisations we've done over the last few months as well as a couple demos I recently made and think the next batch of songs are going to be something to look forward to.
6. Who would you like to collaborate with at some point?
Mostly friends from other bands. There are a couple engineers I'd be interested in working with as well. Collaborating with John Zorn, Harold Budd or Kevin Shields would be pretty amazing. Daman Albarn too.
7.  What would you say is something important/useful you've gained so far by being involved in music?
I've had the opportunity to work with some great people whom have broadened and enriched other aspects of my life. I've had the luxury of traveling the world and seeing places and experiencing cultures I would not have otherwise. I'm very grateful for that.
8.  Besides music, what is something else you might be doing?
Music does take up a large chunk of my time. It seems like I'm always performing or collaborating with someone when not working on my own projects. Outside of music related things, I've been writing a lot. Revisiting some memoirs and trying to get motivated to focus on several stories I've had floating around upstairs for a while. If I'm in town I'll often check out exhibits, galleries, shows, etc. Depends what's happening. I'm also getting more interested in amateur photography. I'm by no means a pro of any sort; it's just something I like to experiment with. I collect old photos and prints. When not tied down I try to travel. Even if I just head upstate for a couple days and get lost in the forest. It's inspiring.
9.  What are some favourite, local spots that you would recommend for a visit?
Bruar Falls & Glasslands are good spots. Coco 66 and Cameo Gallery are nice spots as well.
10.  What are some bands you are currently listening to?
I've been listening to Samhain all day! November Coming Fire & Initium are perfect for this kind of weather.
I think the new Warpaint album is really good. Undertow is awesome. I like the latest Deerhunter, they keep getting better. "Lisbon", The Walkmen's latest release is great. Dinowalrus have been writing some fantastic tracks and Translations, a new band from Brooklyn are tops.
Been playing some older LP's too. Like George Harrison's All Things Must Pass, Jon Hassell's Vernal Equinox and these psychedelic Belly Dance comps I recently found. There's some intense music on those compilations.
Some old favourites/favourite records?
Man, I could go on forever…
Some favorite records:
De Frank Professionals: Jamaican Sounds
Jeff Tago: Self Titled
The Manson Family Album
La Dusseldorf: Viva
Vis-à-Vis: Passage to Paradise
U-Roy: Love Is Not a Gamble
African Brothers International: Osekufuo
Solomon Ilori & his Afro Drum Ensemble: Self titled
Another Green World
Return of the Giant Slits
Favorites in general:
Velvets, Can, Akwaboa, Francoise Hardy, Neu!, Faust, Iggy, Lush, Neil Young, Antena, Moondog, The Misfits, Mulatu Astatke, The Vaselines, MBV, The Raincoats, Roxy Music, tons of 50's/60's gospel, doo-wop & rock 'n' roll.
Anything you're looking forward to being released?
The new Brian Eno record. The track "2 Forms of Anger" is kind of great. I love how that end section comes out of nowhere. Sounds like a cross between Neu! and Eno's classic "Third Uncle."
I'm also looking forward to The Psychedelic Aliens and Marijata reissues.
Last cd/vinyl/digital purchased?
I've actually never purchased music digitally before. I just realized that, weird. The last record I purchased was False Lover by Pat Thomas & the Sweet Beans.
Last movie you saw & show you went to?
I really don't go to the movies much. Maybe once a year. I watched Rosemary's Baby the other night. I love that film. Great soundtrack. In regard to shows, saw both School of Seven Bells and Prince Rama (whom we're playing with tonight) last Saturday. They were both great. Both bands have a spiritual vibe that translates with me.
www.myspace.com/apachebeat