Rooney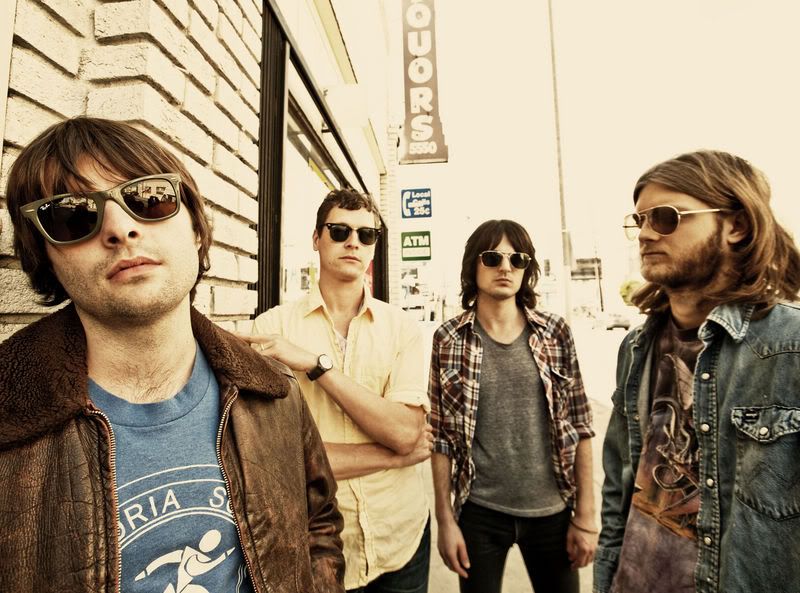 Rooney, the Los Angeles based band made up of Robert Schwartzman (vocals/guitar), Taylor Locke (guitar/vocals), Ned Brower (drums/vocals), Louie Stephens (keyboards/vocals), and new bassist Brandon Schwartzel, released their latest record earlier this year. Their third record entitled - "Eureka", was self produced and released by the band. They had free reigns to take control of the direction of the album and steer it in any which way they wanted. Eureka was the outcome and here Ned explains a bit about the making and creation of the album.
1.  How was the process different this time around, compared to previous albums?
when we started making eureka, we decided to try our hand at producing ourselves. we had collected a large amount of equipment and a lot of experience over the years so we set up our own studio and cut the song "i don't wanna lose you." we had already tried it with 2 different producers but we liked our version the best. that was the closer for us and from that point on we just kept plowing ahead. it was literally the 5 of us working together with no outside help or input up until the mix stage.
2.  What kind of approach did you take, knowing that you had pretty much full control over everything?
we wanted to make a record that expanded on the pop rock sound we had already established while also experimenting with some new sounds and influences. we also worked hard to keep our quality control standards high even though we were working on our own. we tried to keep the production on the natural sound but also make a record that sounds contemporary and high-fi.
3.  Were there certain things you had in mind or planned out to try out for the new record?
we wanted to meld the different styles of recording we had learned from the other producers we've had the good fortune to work with. sometimes the previous recordings would sound too raw or too processed and we were searching for a middle ground. we wanted to be able to hear all the band member performances and i think that really comes across. as far as songs, we have all gotten into some of the more jazzy rock groups from the seventies like steely dan. we knew we would try some things along those lines...."stars and stripes" and "only friend" are in that realm. we also chose moments to break away from the more conventional song structures which was fun for us.
4.  What do you feel you learned most, after having completed recording?
we learned to always strive for the best performances when tracking a song and really think about how the pieces will all fit together. although artists now have the ability to make every track "perfect" as far as pitch and time, you really do lose that human quality if you overuse the technology. we also learned you don't need a giant studio with every trick known to man to make a great record....you need the songs and the performers first and foremost.
5.  What things do you look for or use while writing for inspiration, influence, or ideas?
most of our songs are about relationships but there are some other topics of interest on this new record. "Stars and Stripes" is about humanity, "Holding On" is about our life as a band, and "The Hunch" is about intuition. I like to keep my channels open when reading or walking around and always be open to new ideas whenever they may strike...I think the others feel the same.
6.  What direction would you like to see the band going in?  
I would like to see us increase our output to an album a year. it's a real possibility now that we have the ability to make the albums when and where we want. I love hip pop music and wish to keep expanding upon it.
7.  What are some things (besides music) that take up your time?
I enjoy cooking, gardening, cocktails, and spending time with my family.
8.  Is there someone you'd like to work with at some point?
I'd love for Rooney to record a song or album with Jeff Lynne. We are all huge fans and have been since starting the band.
9.  What's one random thing about yourself?
I'm a friendly optimist.
10.  What are some bands you are currently listening to?
The Kinks, Carney, Jellyfish
Some old favourites/favourite records?
All the Beatles albums
Anything you're looking forward to being released?
new mike viola album Last cd/vinyl/digital purchased?
The Like/Release Me
Last movie you saw & show you went to?
Grown Ups....worst movie of all time.
www.myspace.com/rooney