Shout Out Louds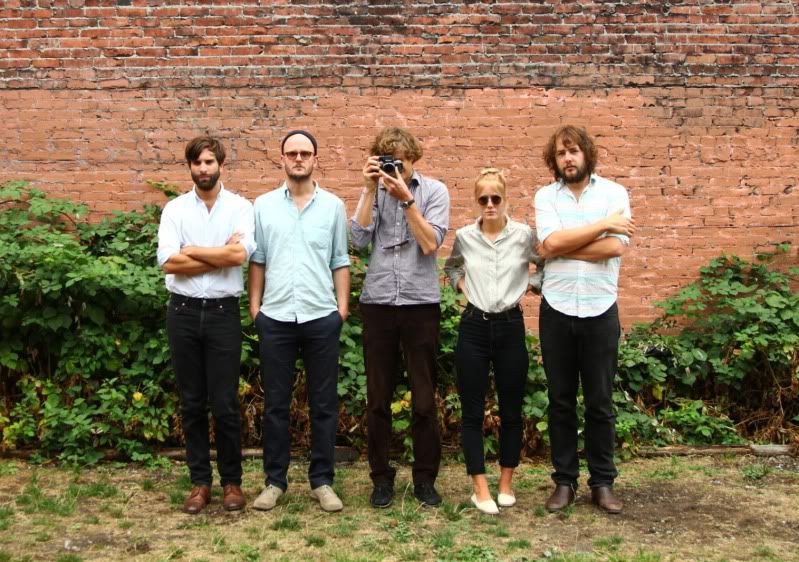 The Shout Out Louds have a new record out titled "Work", their third full-length (following Howl Howl Gaff Gaff and Our Ill Wills) produced by Phil Ek. The greatest difference in the new album is that, "there is a relaxed, more stripped-down feel to this one that we were never interested in before," says Bebban Stenborg, keyboardist/vocalist.
"Our intention[was] to be extremely focused and professional – to just let ourselves disappear into the work on the album. But in reality we did what we always do: piss about, take long lunches and put a lot of the organization side of things in Phil's hands. We're strangely immature sometimes. We love to have babysitters for everything, except finding good restaurants. We can do that all on our own," Stenborg shares.
The rest of the Swedish band consists of Adam Olenius on vocals, Ted Malmros on bass, Carl von Arbin on guitar and Eric Edman on drums. The five-piece has a pretty routine way of songwriting.
Stenborg explains, "Adam usually brings a more or much less finished idea for a song and then we take it on as a group from there. We're all very involved, but Adam is usually the mastermind."
When asked to name some of their favorite places to perform, Stenborg is a bit hard pressed to narrow the list down.
"There are too many ... New York never fails us, Toronto is amazing for after-parties. Bologna, and Italy in general, is magical."
Being on the road has its excitement: "The things we all look forward to aside from playing the actual shows is all the food, eating out every single day, and with all the great food in the world ... sometimes we're so focused on where to eat we forget that we're supposed to be working."
It also has its downsides: "What I personally don't look forward to is bus life, living in such close quarters and struggling to get a minute to shower somewhere ... eeek."
Looking ahead to the future, Stenborg shares that they'd like to work with "Jay-Z, our top choice for anything right now. Or Gail Simmons of Food & Wine Magazine – what a cutie."
http://www.myspace.com/shoutoutlouds