Tearist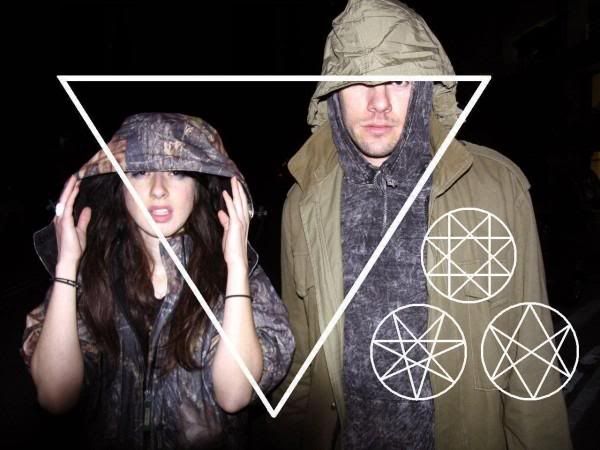 Tearist are a two piece, Yasmine & William, based out of Los Angeles. Angular and varied, their sounds curve and weave, creating a distinct, reverberating sound. Here, Yasmine does some explaining on the background and relationship that is Tearist.
1.  What is the origin of the name of the band and how was it thought up? 
We are inspired by movements (w/in art), and I wanted what we were doing to be a movement specific to us… b/c it was. I, also, was known for coming to practice with bags of torn pages that I would tape together to make up the lyrics for our songs… b/c I would write things and tear them when I would get bummed… also, b/c I'm melodramatic and am drawn to the way sadness looks- aesthetically. Totally healthy. Great for loved ones. "Tearist" is, also, how my dad says "terrorist" due to his intensely Southern accent. Being born half Iranian and having lived there with my mother during the Iran/Iraq war… I was quite familiar with the word at a young age- often being referred to as a foreigner in both Iran and America. We felt that TEARIST was strong and represented so much of who we were… as people wanting to create something that we didn't understand- a movement of our own … all the way as far as down as to the clothes we were wearing being almost always torn- most often circumstantially.
2.  How did the band form?
Will made me a vegan milkshake when he worked at this ice cream place. I had my microcassette recorder with me and was like "Sir, the milkshake you made me was delicious. What was your inspiration behind this milkshake?" etc… I interviewed everyone and was pretty annoying during that microcassette phase I assume. (It was at a show.) Then, we met a year later. I sang and danced in front of he and his friend Marcus (both ex-Silver Daggers) I did a mashup of "smell yo dick" and "slob on my knob" at this horrible party. like did a full performance and made them listen to me sing ringtones in a corner. The next day he and I went downtown and sat in this weird park and I noticed this rusty train car thing, and I was like "I wish we could just plug in on top of that thing and play a show." It was at that moment - we decided to become a band... I even have the picture of the train car thing.
3.  Who is involved and what is the background of the band?
The band is me, Yasmine Kittles, and William Stangeland Menchaca. Will- self taught. To me is what makes playing with him so amazing… from heart and hearing as opposed to being taught what's the "right way" makes you fight for the songs- it's your style- it's your child… that may sound ridiculous but I really feel like it's our baby. I was in musical theatre and choirs throughout grade school. Then, my lungs collapsed (actually 3 times) and my voice kind of got deeper... and I had to relearn how to sing. I play instruments... but only how I hear them. I am strongly against musical training... as I expressed. Should be innate and honest and personal to how you experience and feel the instrument. Other than that the background is that train car thing and just wanting to plug into it and I wanted bang on the rusted metal really badly.
4.  What other projects have you been involved in prior/currently?
William was in Silver Daggers, and he is, currently, in Showgirls and XEZ (which is he on bass, me on vox/guitar and Marcus Savino on drums). I have been in various bands that I felt didn't "represent me"... have done studio stuff- singing on the last Spoon album "Ga ga ga ga ga…," Trail of Dead's "The Century of Self," Jeppe (side project of Junior Senior), and lately contributing to the newest Former Ghosts recordings with Freddy Ruppert.
5.  How would you describe this project?
I would describe it as Will and I. We have no idea what it looks like or sounds like to people. I can never describe it… wouldn't know how. And we're pretty into that.
6.  What is something you are looking to achieve with this band?
We just want to be in this band. (And we, also, want 3 trophies, 2 medals- one gold, one bronze, and a gift certificate to Friday's for us and all our friends to enjoy good eats for up to one full year.
7.  What else do you see yourself doing, besides something music related?
I want to finally get my preaching license. I see myself meeting Elton John and wearing the same outfit. So bummed. I want to get a boob job with all the money I make from the band… then, I want to undergo a very public breast reduction. Like as a "fuck you" to the man. I want to be sponsored by Starbucks. I really like what they do over there. Not a joke. I love you Starbucks… with all that I am. Will wants to be sponsored by New Balance . He's been thinking about running a lot lately and wanted them to buy him some shoes. He wants them to make him some tiny shorts too, but don't say I told you.
Sidenote: I have been acting and doing performance pieces my whole life, and I am currently starring in a film with Laura Silverman that is headed to Slamdance mid January. I, also, have a project with Eric Wareheim called IN LUST. We make videos and music. We are working on our next video now.
8.  Who are some people that you consider influences or inspirations?
The KLF, Marina Abromovic, Antonin Artaud, Genesis P-Orridge, Blixa Bargeld, Laurie Anderson, Guy Debord, Baudrillard, Pina Bausch, Sue Tissue, Joseph Beuys, the song "Smell Yo Dick" by Riskay and all things R. Kelly (especially "Real Talk"), oh! and the cows on Sesame Street that sang that "Wet Paint" song. That was my jam.
9.  If you could pick anyone, who would you choose to work with?. 
Will. truth.
10.  What are some bands you are currently listening to?
-Bad pop songs that I make Will learn, so we can do duets in the car. -My friends' bands that I am extremely proud of such as Former Ghosts and Abe Vigoda. -And the sound of my dad texting me every 15-20 minutes to tell me how good he and my mom think Friday's is.
Some old favourites/favourite records?
Yasmine:
New Values The Dreaming Betty Davis s/t 1/2 Mensch
William:
Christ- The Album The Feeding of the 5000
Anything you're looking forward to being released?
The West Memphis Three
Last cd/vinyl/digital purchased?
Yasmine: Pictureplane "Goth Star"- I was so excited about the song, and I couldn't wait for him to get to his computer to send it to me.
Last movie you saw & show you went to?
Former Ghosts at The Smell and Abe Vigoda at Echo Curio
Movie:
Squeakquel.
http://www.myspace.com/teariststst