An Horse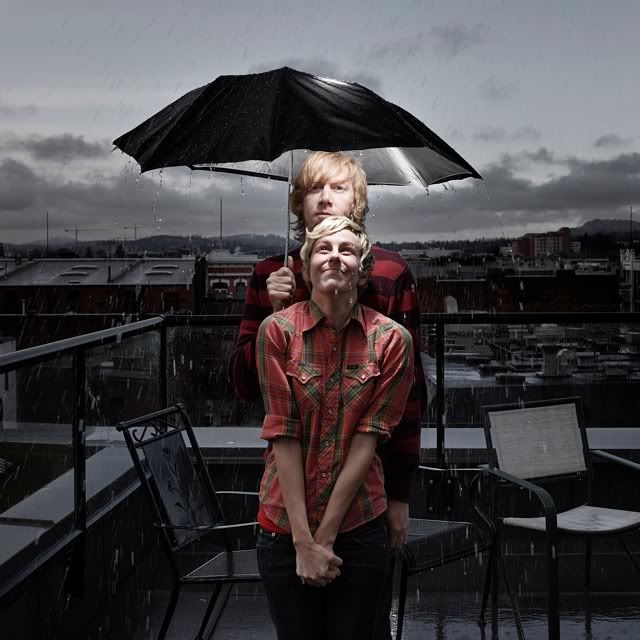 Kate Cooper and Damon Cox make up the band An Horse from Brisbane, Australia. Mixing their blend of guitar and drums to craft songs that become ingrained in your mind, their style mixes in with different influences to create a soundtrack of the summer (winter or fall.) Kate was kind enough to take some time out to chat and discuss all things An Horse.
How would you describe the music scene in Brisbane compared to the US?
"Brisbane is a really small city, and has a very strong community; that's what Damon and I love about the states, it's really big and in the US you can tour and tour..."
Were there any other names for the band floating around?
"We didn't even think about it, it was good, we didn't have to have one of those -what should we call the band things." It was a name Kate used for solo shows around Brisbane.
Both Damon and Kate's previous bands had already broken up giving them the time to begin An Horse as more shows were being lined up as well as being asked to do the Tegan and Sara tour.
What is something valuable you learned or picked up along the way that you can use with the band now?
"To be honest, everything I learned about touring I've kind of learned in the last year. Touring in Australia you can tour 3 or 4 days; you could do a two week tour but they are really hard to do because you go to all these rural and outback places and it's kinda not worth it. I've really just learned from touring in the states."
Their former practice space was located in the record shop Kate and Damon both worked in. "The record store was a pretty cool practice space and soundproof and amazing." So nobody actually found out that you guys were practicing down there? "We were very diligent about hiding our stuff and putting everything back the way it was."
Previous jobs?
Damon worked in a pet store. "He got bitten by a rat, that's my favourite story." Kate used to teach media and journalism at a university in Brisbane among other things.
What made you decide to play music in the first place?
When Kate was 15, she went to "a really boring strict all girls school", and got taken out of school one day by her parents to go to a Rolling Stones concert. "I couldn't get a day off to save myself, if I was dying they'd still let me go to school, so the fact that they pulled me out of school was a really big deal. And I just remember watching the Rolling Stones and thinking this looks way more fun than sitting behind a desk. I actually believe my parents regret it deeply, but they're kind of coming around now."
What was the best part of making this record?
"The record was made in two parts, we made an ep, then we went to the label and they said we want some more. So we went again in a different session and made more. The first time we recorded, we knew each other very well when we made the first ep but still getting to know each other I guess kind of musically and we'd never been away together; we had to go away and stay at a studio. That was really exciting, I remember the first night actually staying in the same place away from home. It was just really nice to go, it's like an hour and half west of Brisbane, and to just hang out and make a record and feel really comfortable. And the second time was awesome again, I feel like it's a spiritual home out there or something, we hung out, no pressure, but we did have people that we could send stuff to or they could comment on it and send back. So that was kind of cool. The fact that we got to even go back and make the rest of the record is pretty exciting."
Were there any certain albums you listened to during the making?
"There were records we definitely referenced, but I think at the time I was listening to all the Silversun Pickups records, I remember talking about that a lot."
What is your favourite thing about playing live?
"I like playing every night, I love playing with Damon. I think we play really well together and it feels really comfortable.
Where do you come up with lyrics?
"I dont think there is any one way that it happens. Sometimes I sit down and play, I like to be by myself and play, sometimes I'll be driving along or doing something else and I'll think about something or I'll read something usually, and that'll kind of stick around in my head and comes back to me."
How was playing Letterman, were you guys suprised about being asked on that early in the band's inception?
"It's suprising, to say the least. We'd heard along the grapevine that there was a possibility we could be doing it in a few months, Damon and I kind of laughed about it, thought that was pretty funny and how hilarious that would be. Then we got a call or email just as we were entering Canada saying that Letterman had been confirmed so basically we only found out 3 days beforehand, which is just fine, i didn't want to be having to think about it for weeks and weeks out, 3 or 4 days to think about was more than enough. But it was heaps of fun, it was a lot of fun."
What do guys like to do in your free time or on days off?
"When we're on tour and we have a day off usually we sleep because we need to catch up. And we eat, eating is a big deal for me. Once we're caught up on everything Damon and I plan to watch a whole lot of movies. Also swimming.
What's something you miss most about Australia or look forward to when you get back home?
"I miss my niece, I miss her a lot, that's probably it. I don't miss a whole lot also I've been there for so long that it's really refreshing to be elsewhere. I guess I miss my family, my friends, I miss having breakfast at some of the spots I used to have breakfast at and I miss going to the beach a little bit. It's always there and it's not that far away, technically..."
Is there an item that you can't get in the states that you miss?
"There are a few things actually...This is going to sound cliche a little bit, but I did actually bring vegemite with me. There's this throat gargle that's like magic, you gargle it when you're getting a sore throat and it kills everything. You know what? American chocolate is very different than Australian chocolate. I eat a lot of chocolate, so I'm trying to adjust." Is it a good different or a bad different? "I don't enjoy American chocolate as much, I have to be honest. I think it's because you guys use corn syrup and we use sugar, I'm not sure, I'm trying to get to the bottom of it. ..but it just tastes different. Also it might be a temperature thing, like you know it's really hot at home, it affects the chocolate, i don't know! I mean I'm adjusting!
Best show seen:
"I feel like every time on tour with Tegan and Sara, I don't always watch the bands we're playing with every night, but every night I watched their set. The way they perform and the way they write songs, every night they would blow me away; I'm sure one of them is one of the best shows I've seen." Playing her first solo show as An Horse, Kate says opening for Katie Davidson was another, "The show was absolutely mind-blowing, the way she handled the crowd and the sound of her voice." "Also! The Silversun Pickups played in a mall as part of a music celebration we have - The Valley, which was packed and people were hanging over the sides of the balcony and that was amazing and they played really well. And I've since spoken to the band about the show and they said it was one of the best shows they've ever played."
What was the last show you actually paid to get into:
"My mom took me to see Neil Young for my birthday and she paid for those tickets, but its kinda shitty because the day of the show our record label in Australia rang us up and said they have a whole bunch of Neil Young tickets you guys wanna go? And Damon decided to go and his tickets were right at the front and I had to sit with my mom because she saved up and was really excited and I had to pretend that it was amazing, but it was a good show.
What are some bands/artists that you're listening to lately?
Silversun Pickups, Julie Doiron, Trail of the Dead, Telekinesis, Kevin Devine.
What are some old favourite albums?
"Lately in the van we've been listening to a lot of Yeah Yeah Yeahs, Tegan and Sara, The Frogs, we've been listening to a lot of audio books, also been listening to Nina Simone and just this morning Damon put on Billie Holiday, very varied. All our favourite records are so hard to nail down, so many of them. Oh, and the Gaslight Anthem."
What was the last movie you guys saw?
"When we're flying together we like to watch films at the same time, so we time it so it plays together that way it's like a shared experience, we watched - I don't even know what its called (Flash of Genius-ed.)- it's like the story, it sounds really boring but it's amazing, but it's the history or the story of the guy who invented the intermittent wiper on cars, who got ripped off basically, it's really good. Before that it would of been something in the cinema and I have no idea what it was I cant even think - oh I think it was maybe was Vicky Christina Barcelona. I'd seen everything in the cinema so I just went to watch that over and over again because I liked it.
The difference between US and AUS coffee?
"In Australia you can only get espresso pretty much, they don't do black coffee. It's a lot stronger at home." So what is your favourite? "At home i would say a flat white, i guess the equivalent would be a latte. Or a long black."
http://www.myspace.com/anhorse