The Whispertown 2000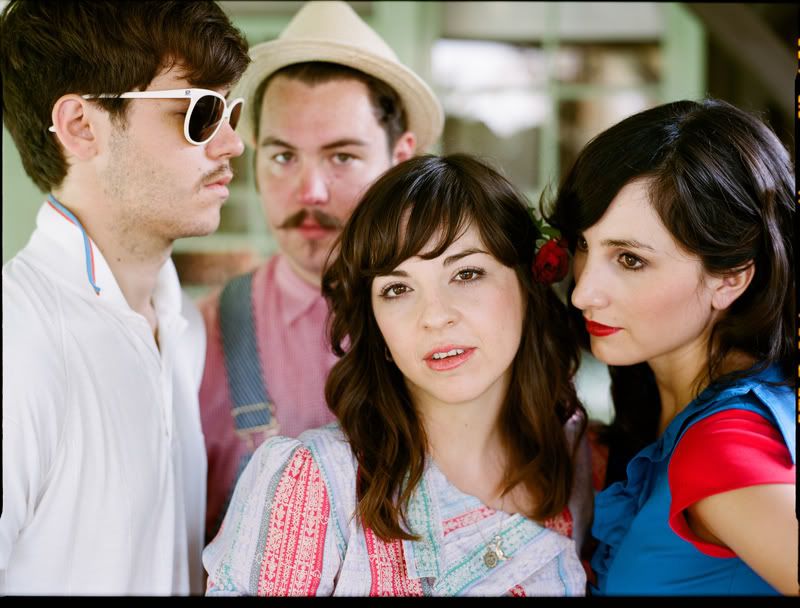 With their free flowing melodies and harmonies, The Whispertown 2000 are a four piece based in Los Angeles; made up of Morgan Nagler, Tod Adrian Wisenbaker, Vanesa Corbala, and Casey Wisenbaker. They mix retro classic sounds with a twist of folk to create their own sound. Their first album - Livin' in a Dream was released in 2006, while their current record - Swim, was released in 2008. Morgan was kind enough to take some time to give us a peak into The Whispertown 2000.
1. How is a song created and what sort of approach do you take?
Usually, I write the song on guitar and bring it to the band, where it then tuns into what it is by everybody's shaping and morphing.
2.Do you prefer to play to a smaller or larger audience or venue?
I like a little room packed in where I don't know anybody.
3.Having known Blake and Jenny, what kind of advice did they give you as far as writing and preforming goes?
Well it was Jenny that somewhat insisted that we move forward and unlock our dreams, as she's done in all aspects of my life, and both her and Blake have been extremely supportive .. Just do it
4.Who are some people or bands you look up to as inspiration or influence?
Jenny Lewis, Bob Dylan, Gillian Welch and David Rawlings, Benji Hughes, and Bill Murray
5.What do you enjoy most about performing, or even least about it?
I enjoy feeling like the soundtrack and connecting to people, I do not enjoy messing up and if no one likes it. :)
6.How did Whispertown 2000 start?
Jenny insisted I started performing and brought Tod and I together, the 3 of us played a few shows together, then Tod and I continued acoustic through mountain and valley and ended up in a family affair with Casey, Tod's brother on bass, and Vanesa Corbala singing harmoniously, getting tambourine bruises.
7.On the road, what did you discover that you weren't quite aware of before?
California really has the best produce.
8.Do you do much preparation for a show?
Most prep work goes into writing and arranging new stuff, then we just need a run through or 2 :) So we think..
9.Who would you like to go on the road with?
Bob Dylan, The Black Lips, Dr. Dog, The White Stripes, Lucinda Williams...
10.What are some bands you are currently listening to?
Benji Hughes, The Black Lips, and The Staple Singers
Some old favourite records?
John Prine-John Prine, John Prine,-The Missing Years,Tom Waits- The Early Years Vol. 1 and 2, Built to Spill- Perfect From Now On, Townes Van Zandt- Flin' Shoes, Paul Simon- Negotiations and Love Songs
Anything you're looking forward to being released?
Michael Runion's new record
Last vinyl purchased?
Neva Dinova- You May Already Be Dreaming.... a diamond in the rough
Last Movie you saw and show you went to?
Role Models, She and Him
www.myspace.com/whispertown2000