Mika Miko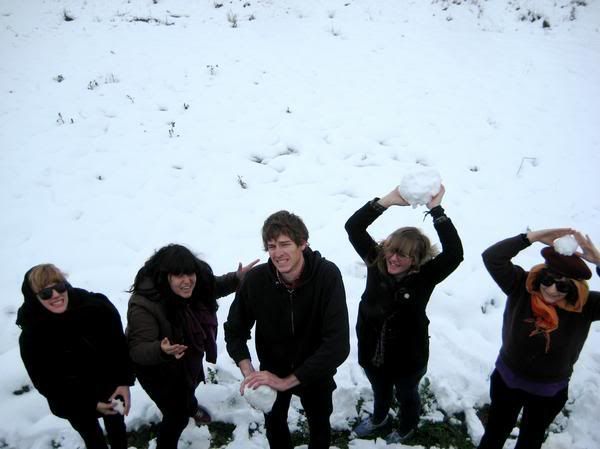 Infusing sounds and clashing noises, Mika Miko are a five piece band based out of Los Angeles California. The band includes guitarist Michelle Suarez, bassist Jessica Clavin, drummer Seth Densham, and duel vocalists Jenna Thornhill (also saxophone) & Jennifer Clavin (also guitar). Their music combines influences and beyond to create a wild ride of ruckus. With a new album to be released soon, Michelle took some time to answer some questions about what makes up Mika Miko.
1. Can you tell us how the band came about, where everyone is from and the drummer changes..
The band came about in 2003, sometime. We are all from southern California. Our dummer...is new! And a boy. It's a boy!!!
2. Who or what are some influences for the band?
We all really appreciate music. All of us have different influences: people, music, food, clothing, books, etc.
3. What is the songwriting process like for you guys?
Usually one of us comes up with a riff and we piece it together at practice. Piece by piece, brick by brick.
4. What is your favourite song to do live and why?
I like doing Business Cats because sometimes people know the words and it's really something to see people sing along.
5. How would you describe the band to someone who had no idea what you were about?
I hope that they would believe me when I said...A PARTY! AN AWESOME PARTY.
6. Besides this band, are you involved in different projects?
I think we are all doing our own thing. It's a mystery. I do not really know my bandmates.
7. What's the best & worst part of touring?
Sometimes, the worst makes for a great story. And the best is when you have enough money to go eat at a restaurant together and brush your teeth in the restroom.
8. Apart from the band, what do you do for fun, do you have separate jobs?
We do all kinds of things. Some of us are working outside of home, and some of us work from home.
9. Are Mika Miko currently working on any new material?
We are releasing a new record very soon. Mayish, I believe. It's getting mastered today.
10. What are some bands you are currently listening to?
Currently, I am listening to Stickmen with Rayguns.
Some old favourites/favourite records?
Old favorites....Misfits. Definitely.
Anything you're looking forward to being released?
The Remo Voor 7". I heard it's going to be really good.
Last cd/vinyl/digital purchased?
I got a copy of the SCREAMERS demos LP with red ink, not blue. But really the last record I bought was for someone else. For Jennifer's birthday, I gave her a Barracudas record.
Last movie and/or show you saw?
Last movie I watched was Beethoven's 2nd. It was really retarded but cute. I also just started watching Lost and it is REALLY COOL!
myspace.com/mikamiko