Cut Copy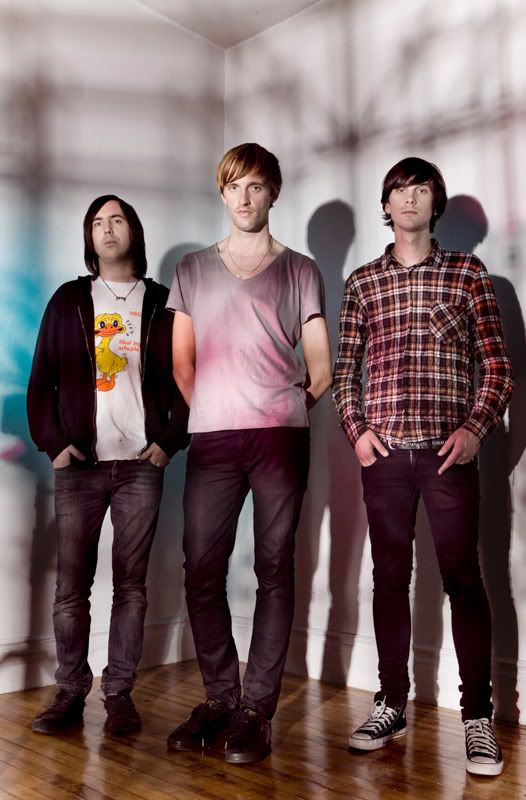 Four years in between their last record - Bright Like Neon Love, and with their current album - In Ghost Colours debuting at #1 on the Australian charts, Cut Copy are getting set for a co-headling tour with label mates The Presets. Cut Copy are a 3 piece from Melbourne made up of Dan Whitford, Tim Hoey, and Mitchell Scott. In Ghost Colours mixes and blends alternate genres; beautifully, intersecting sounds, cutting back and to from distinct combinations of melodies and most of all makes you feel like you're floating through crystal clear air. Dan was nice enough to give us a bit of details about what makes up Cut Copy.
1. Do you ever feel the need or get in the mood to mix up or change a song while or right before playing it?
We have a pretty short attention span for our own music so we often perform different versions of our songs or different arrangements. I think it's good for our fans too particularly when it comes to older songs that people have probably heard us perform already. Sometimes you'll be performing at a more high energy dance even so you'll take songs more in that direction and sometimes it's more of a noisy guitar driven punk version of the cut copy experience. Also I think audiences dont always want to hear you replay songs exactly the way they are on your album so they feel like they've seen something that is unique for them.
2. What's the best part about playing live?
Playing live is a great immediate way to interact directly with fans. It's also a great way to get a workout.
3. Do you get new ideas for sounds and music while playing, or does it happen at random times? And do you get the sound you're looking for or have in your mind down exact when recording or even demo-ing?
Usually new ideas for sounds or music come when listening to other music or doing something completely unrelated like looking in a bookstore. I kind of feel like our music is such a product of our influences and musical experience that I could almost dissect each song idea by idea and tell you exactly where they arrived from. But I dont think originality in the purest sense really exists, it's more about how you put the things you like together to make your own music.
4. Was there a different approach or one intentionally taken for the new record?
There wasn't a direction we had in mind at the outset. But in general I think we're exploring how pop music can unify the most disparate types of music. We love tangerine dream and neu and ciccone youth and francois k and terry riley but then we also love the doobie brothers, E.L.O, the eagles and chic. For us making music is like navigating across different ways of making pop music, whether it's with a synth, a guitar or a choir. Even the most experimental music can have pop elements to it and I think that's what we find the most exciting.
5. What is/are the main instrument(s) used to get the basis of a song or does it vary?
We never seem to start writing a song in a set way. It really is quite random what we work with.
6. Do you get to go see as many shows as you would like to, besides Festivals you're on? Or do you have the opportunity to dj as much?
We still DJ quite a lot because we often will spin records after we play shows or when we have a night off playing live. Because we're music fans before considering ourselves musicians it's something we love doing. The only downside of touring so much is that we dont get to see the number of shows that we'd like to. When we were a band just playing in melbourne we would be out seeing bands almost every night of the week. But now it's a bit difficult because most nights of the week we're playing shows! But on the upside we have had the chance to see some of our heroes on our tours, like Daft Punk and My Bloody Valentine.
7. Speaking of dj'ing, do you have a particular way of picking tracks for mixes?
We approach our DJ mixes very similarly to writing songs. It's not so preoccupied with style but more with melody and tunes. Like the original balearic DJs, as long as songs can somehow work together that's all that matters. I love the idea that you could put grauzone next to riot in belgium or fleetwood mac next to lifelike and still make it work, still have people dancing and going crazy. I guess we play the kind of music we'd like to hear on the dancefloor; fairly ecclectic but still a party.
8. Do you have a favourite city/venue to play? A favourite to watch another band?
We loved playing at the bowery ballroom in new york. It's a good intimate venue but great sound and just feels nice to hang out there. We've also seen a few gigs there including Guided By Voices second last show which was a long, memorable (and drunken) performance. Its hard to pick a favorite place. There's usually at least a couple of great venues in every city.
9. Who's been a favourite as far as tourmates goes? What's a favourite thing to do after a show and/or with time off?
It seems like a lot of bands have become our good friends after sharing a tour together. But I think we'd have to say our oldest friends Midnight Juggernauts and The Presets are our favorites to tour with. We started out touring together in Australia (sometimes playing only to small audiences) but it feels like as a result we've bonded like brothers.
10. What are some bands you are currently listening to?
john forde
doobie brothers
phil collins
mercy arms
nick straker band
- Some old favourites/favourite records?
klf-chill out
elo-time
chic-soup for one
bwh-stop/livin up
avalanches - since I left you
malcolm mclaren - duck rock
ariel pink's haunted graffiti - the doldrums
- Anything you're looking forward to being released?
our third record.
- Last cd/vinyl/digital purchased?
baciotti - blackjack & dennis wilson - pacific ocean blue
- Last movie and/or show you saw?
i just saw a documentary on the life of Arthur Russell at the Melboure film festival. He was quite an intriguing guy.
myspace.com/cutcopy