You Say Party! We Say Die!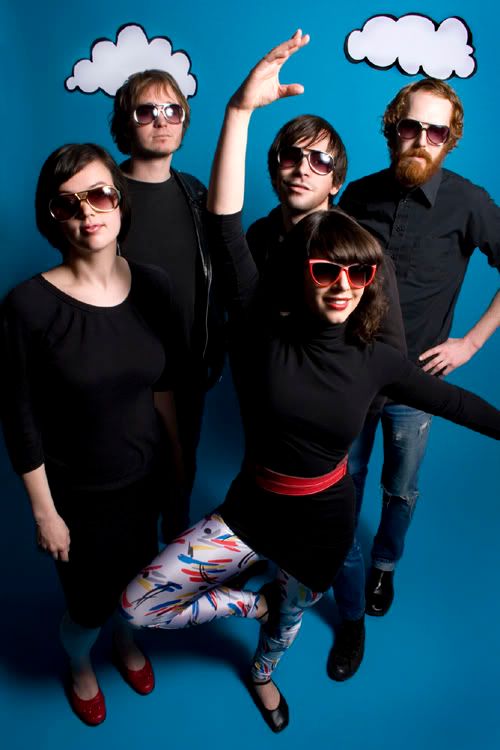 You Say Party! We Say Die! are a 5 piece, self described dance-punk-new wave band, who formed after it was too cold to take their bike gang out on the streets in Abbotsford, British Columbia. They self released an EP; Danskwad, followed by their first full length album - Hit The Floor!, and most recently, after signing with Paper Bag Records - Lose All Time. Their music is an exciting array and blend of spastic eruption of wonderful and striking noise. YSP! WSD! are: Becky Ninkovic - voice, Krista Loewen - keys, Derek Adam - guitar, Devon Clifford - drums, and Stephen O'Shea - bass; who was nice enough to give a bit of insight into the band that is - You Say Party! We Say Die!
1. How did the band start, where did you all meet, & where is everyone originally from?
the band started in abbotsford back in december of 2003. The story goes "it was raining and too cold to ride our bikes in winter so we ended up in becky's basement and decided to start a band". I can confirm that that story is true. eventually the line-up changed as we toured more and more. everyone from the original band is from abbotsford, all the replacements are originally from abbotsford. we're keep it suburban as best we can.
2. What were you doing before the band and/or inbetween shows, recording, etc..?
we all had regular jobs and attended university. whether it was a pizza place, or a grocery store, or a book warehouse. whatever you could find to get by.
3. How did you come up with the awesome name? Were there any other names just as good in the running?
no one ever find this funny, but we do...the answer to how did we come up with the band name..."we thought it up". it was our second pick after the girls didnt feel comfortable telling their parents we were a band called "the clap".
4. Who/what are some influences on the band?
i joke around these days about have wanted to rip off the international noise conspiracy.
5. You're banned from entering the US for awhile...because of not having visas while crossing? What is the story behind that? And i'd heard you've done it a few times before? In retrospect, does it seem like a big deal?
this is a crappy deal for us, but more a crappy deal for americans that want to see us live. we didnt have visas when we crossed. we applied but were denied. we had played down in the states prior to being banned. just got unlucky i guess....
it's a big deal and a small deal. and a middle sized deal too. but it's definetly not a meal deal. it didn't come with fries.
6. What if any, was the major difference in recording the 2 albums, or even the EP?
LINE-UP CHANGES! everyone loves different members. especially us for some reason....
7. Are you working on new material currently?
no. no, we're totally resting on our laurels. everyone says yes, so i'm gonna say no. hahahahaha. seriously no
8. What is the favourite song to do live?
mine is "giant hands". sadly i think i may be the ONLY person, band and audience that does. oh well.
9. What is the best thing about touring?
an abundance of country side! so many highways!
10. What are some bands you are currently listening to? i just finished listening to a new band from toronto called "lioness"
Some old favourites/favourite records?
it's not old, but it's still a favorite. sigur ros - ( )
Anything you're looking forward to being released?
the lioness EP and the new Cancer Bats record.
Last cd/vinyl/digital purchased?
i bought a used copy of orchestral maneuovers in the dark's dazzle ships
Last movie and/or show you saw?
i just watched quadrophenia on joox. i just watched season 1 and the first 11 episodes of season 2 of 'hereos' in a week. again on joox
http://www.myspace.com/yousaypartywesaydie