Matt & Kim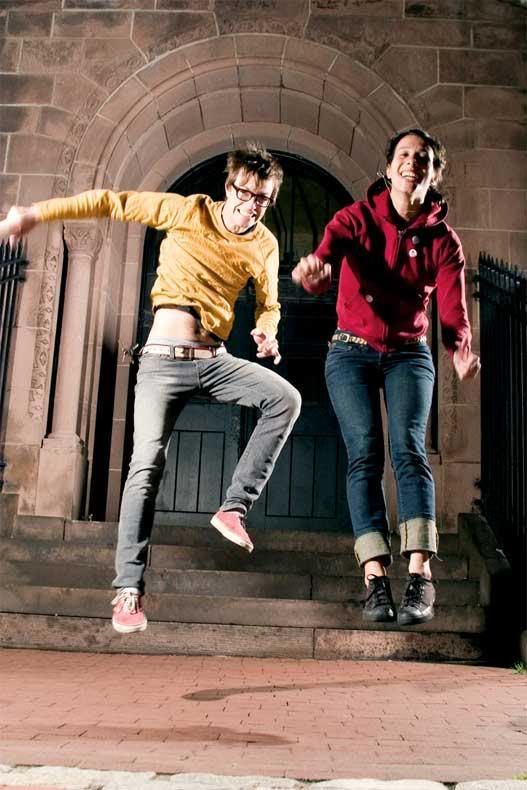 Matt and Kim are a duo based out of Brooklyn. Mixing drums and keys, their sound is a blend of careless, yet energetic; frivolous, yet totally enjoyable noise. Formed not so long ago, their first release was the ep titled to/from, followed by their self titled full length. Their shows are lively and they share the same unwavering enthusiasm, as evidenced by Kim below. So without further ado, give yourself a chance to get to know Matt and Kim!
1. Where did you guys meet & how long after did you form the band?
matt and i met 5 years ago in brooklyn. we started playing music together about 3 years ago. I had never played drums before but loved watching drummers or anything beat related, and matt had never played keyboards before but he found a really cool one in his neighbor's garage, we were working on all kinds of other things together (art, films) and we just work well together.
2. You're known for being and having a fun party vibe..how do you balance that out with being taken seriously, or is that not much of a factor/important?
I really don't care if we are taken seriously or not. I think too many bands are trying to be on stage with a "cool face" it looks as though they aren't having fun. Why would you do it if it wasn't fun. We really love to play and i think it shows in our shows.
3. When did you start touring and what was your approach? Did you find it difficult booking the first shows?
We started touring a year after we started playing. I guess the approach was to just do it. A lot of people don't understand you can just go and do it! We have a lot of friends that tour and we reached into some of their contacts and through the internet got some more. I booked all of our tours for the first 2 years. It got to a point that we were touring so much that i was booking tours while on tour. It became too hectic. Last January we got a booking dude! It has given me my life back! ha. Yea i guess that is one thing people should understand before they start booking a tour. It is a lot of work.
4. Is it hard to adjust once you get off tour?
sometimes. I usually get home for about a week... sleep a lot, catch up on all the emails and myspace messages i couldn't answer when we were on the road, meet up with friends and then start getting the itch to go back on tour. Matt just sleeps! He feels like he needs 10-12 hours of sleep a day which he doesn't get on tour. I know it is ridiculous! He thinks he is going to live forever if he does this. I use to sleep 6 hours a night before we met. I miss that!
5. What's the biggest surprise you came across while touring?
I guess one of the biggest surprises would be that this is a small world. I guess we realized that when we got overseas and we met alot of people who knew people we knew or saw us in the U.S. To us overseas was just this fictional place on the internet. We never thought we would start touring there.
6. You've mentioned you learned your instruments for the band..so did the band start off as a bit of a side project at first? How long did it take to get a hang of the drums & keys enough to record anything and what was the most challenging part of all of it?
Ha ha... well we first just started it because we wanted to learn our instruments and it was a good way to get us both to practice. We never thought it would be come what it is now. Shit i didn't ever think anyone but matt would hear me play the drums. It took a ton of practice... i still think we are learning our instruments! I guess we record our EP a year after we started playing. I really don't know what the most challenging part of it was...I guess playing live was pretty challenging. I mean we fuck up a lot and you never want to do it infront of people. We are really good at laughing at ourselves so i guess that helps! ha ha
7. Did you completely give up your jobs to take on the band full time? And if so, how much of a risk did you consider that to be, or did you consider it a risk at all?
Yea we haven't had real jobs in about... gosh it is all blending together. I can't remember when i was working last. I think it was about a year and a half ago. I was a nanny and my bosses were great about letting us take time off to tour but then we started touring so much that it wasn't fare on the kids i was watching. I guess because we were always on the road it didn't feel like such a risk. We do work twice as much on the band then any other job we have had. It is crazy how much time goes into a band that isn't playing your instruments.
8. I've heard you guys both have a background in art; what medium of art do/did you work in? Have you been able to use it much for any aspect of the band?
Yea matt and i met at art school. Pratt Institute! (i would say it is the best art school out there... if anyone is thinking about it!) I studied illustration and matt went for film. After graduating i was doing more fine arts stuff. Matt worked on different film jobs. It does work for the band too. We design most of our shirts, stickers and buttons. I did our album cover and matt worked on our video. Now that we are taking a break i would like to get back to making more work. We shall see... depends how long the break is.
9. What bands or artists (or anything else for that matter) inspired you (possibly) to start the band?
I don't know what really inspired us... well matt was in a lot of bands before we were a band. He use to have political punk bands when he was in high school. We also were always going to shows. I think we both love music.
10. What are some bands you guys are currently listening to? Some old favourites/favourite records? Anything you're looking forward to being released? Last cd/vinyl/digital purchased? Last movie and/or show you saw?
Right now as i am writing this i am listening to young joc. We listen to alot of top 40 hip hop! umm i will give you a list of awesome bands people should check out.
The Death set (we are going to go see them play tonight)
No Age
Dan Deacon
Japanther
Parts and labor
Best fwends
Totally Michael
Meneguar
The Mall
Abe Vigoda
Mika miko
xbxrx
dj venom (that is my brother! he is amazing!!)
underground railroad to candyland
against me!
dynamite arrows
gerty farrish
the midnight prayers
flosstradamus
shit... i could really keep going. oh and this is no order... ummm shit last thing we bought... kanye west, 50 cent... we had to support them both, young joc, the first against me album... our disc was scratched to all hell... ok and the last movie we watched... well in a theater it was the darjeeling unlimited. We don't go out to movies often. That shit is expensive. The last movie we rented was... Reno 911! Oh and we are really into renting the show "how i met your mother" That show is hilarious!
And an extra note from Kim:
So i collect Rhode Island quarters. I grew up in R.I. I have about 572.. i think. I am going to collect them all. So if anyone finds a RI quarter i will trade you a regular quarter for it!
http://www.myspace.com/mattandkim